There's nothing more rewarding than a relaxing vacation after slogging your life away at work. However, packing for the trip and after the trip can get really stressful.
If this meme is your #storyofmylife, then you'll definitely need to continue reading. Here are a few tips and accessories that you can get from Taobao, to help you travel like a pro that will change your life forever.
1. Get a luggage that is unique or luggage tags so that you won't face a problem like this:
Here are a few cute luggages that you can consider!
2. Always try to pack a carry on luggage, so that you won't have to worry if your luggage gets lost in transit.
3. If you are on a business trip and you need access to your laptops or other documents easily, this carry-on has a compartment for all your gadgets.
4. Get a neck pillow. Travel economy, but fly with first-class comfort.
5. If you are afraid that you won't be able to sleep on red-eye flights, get some earplugs and eye masks to help you.
6. Warm your feet in the plane or in the hotel room with socks!
7. Bring an empty water bottle and refill it once you have passed security.  You will need it to stay hydrated. This water bottle is foldable so it doesn't take up much space!
8. Always bring an universal adapter so that you can charge your devices.
9. Pack a slim and strong portable charger to stay connected on the go.
10. Pack cases for your contact lenses. Bring your own shampoo and bathing essentials if you are not a fan of those from hotels!
Extra tip: You can also use contact lens cases to pack in small amounts of lotions or concealers!
11. Use this cute fruit medicine case to organize all the medication that you might need for the trip.
12. Get these space-saving soap sheets that you can use to wash your hands or do laundry as well!
13. If you hate how hotel hangers are usually locked, get these foldable hangers so that you can hang your clothes anywhere.
14. Get this foldable slippers for instant at-home comfort.
15. Organize your passport, cards and tickets with this multi-purpose pouch
16. Get a toilet seat cover if you are afraid of going to public toilets!
17. If you do not trust the hygiene of certain areas, bring your own set of cutleries!
18. Get a toothbrush cover to protect your toothbrush from the germs.
19. Pack all your makeup and skincare in this organizer.
20. This even comes with a hanger for you to hang your toiletries
21. Organize your favourite jewelry with this jewelry organizer
22. Get some bags to pack your shoes or clothes so that they do not dirty your luggage.
23. Use this to organize your undergarments! It even comes with a secret pouch for you to separate your dirty laundry.
24. This compressible garment bag comes with the pump to suck in the air and make sure that no space is wasted.
No more this: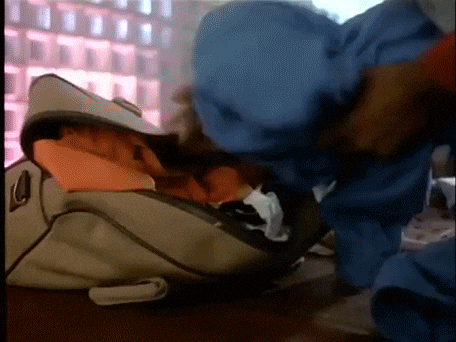 And more this: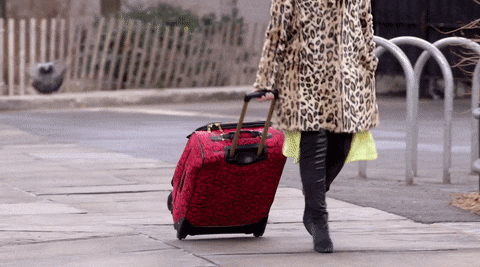 Check out the rest of SGshop's travel essentials here: